Sunday, December 4, 2016
An expanded law that exempts broadcast and online media from revealing their sources--currently being enjoyed by the print media--is closer to becoming a law after Sen. Grace Poe sponsored a measure amending a 70-year-old law and safeguarding the constitutionally guaranteed freedom of speech, of expression and of the press.
 Poe, chairperson of the Senate committee on public information and mass media, submitted Committee Report No.12 on Senate Bill No. 1255 seeking to expand the coverage of Republic Act No.53 better known as the Sotto Law as pushed by former journalist and the late Sen.Vicente Y. Sotto, Sen. Vicente "Tito" Sotto III's grandfather.
 Under the 1946 law, later on amended by RA 1477 in 1956, print media are not compelled to reveal their sources published in their news reports, except in cases involving national security, as determined by the courts or any committee of the Senate or the House of Representatives.
 "As lawmakers, we should capacitate the Fourth Estate--the media--in ferreting out the truth. The media have a very dangerous job, and one way we can help them is to ensure the protection of their sources. The Shield Law actually acts as a second shield,with the first line of defense being the media practitioners themselves," the senator stressed.
 "Through this law, we want to embolden whistleblowers to speak out. If they cannot approach government institutions, then they should at least be able to approach the media. It is high time that we amend the law and extend protection to our truth-seekers and tellers," Poe said in sponsoring the measure.
 Poe said she expects that the proposed legislation would hurdle Senate scrutiny before yearend.
Apart from reporters, editors and publishers, the amendatory bill would also include web masters, cartoonists and other practitioners involved in the writing, editing, production and dissemination of news.
Saturday, December 3, 2016
DAGUPAN CITY – After he transformed an infamous "sitio" from haven of narcotics peddlers, the chief of police here faces a growing problem of mendicancy and prostitution among the people there.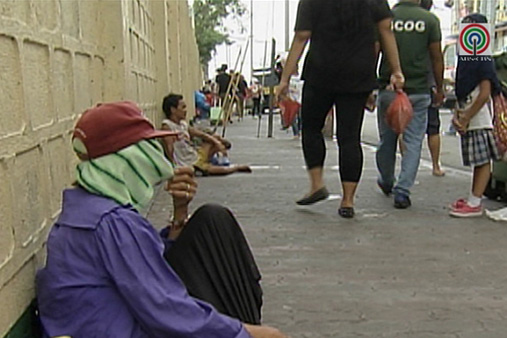 Beggars in the Philippines. Photo Credit: ABS-CBN
"The guy who used to peddle shabu (methamphetamine hydrochloride) and earned two thousand pesos per day could be seen begging the chief of police for a bowl of rice to feed their families," a police officer who asked anonymity told Northern Watch Newspaper.
Superintendent Neil Miro, this City's chief of police (COP), said that even the wives of these former peddlers succumbed into prostitution to meet economic end.
"During the heyday of the illegal trade at Sitio Aling, you can even see bystanders there with toy dog breed's Shih Tzu. Where did they get the monies in buying and feeding those pets?" the same police source posed.
Miro said that to mitigate the impact of unemployment, he already talked with friends in  the construction business in Manila and Pampanga to employ the jobless males in Aling.
"Actually, madami silang magta-trabaho. May kausap ako sa Manila lahat ng hinde magta-trabaho diyan, ipapadala ko sa Manila. Kausap ko contractor, iyong mga breadwinners para foreman, laborers. May pinadala akong initial apat sa Pampanga," Miro, who was assigned as chief of police before in that province, stressed. 
Thursday, December 1, 2016
DAGUPAN CITY – To
cover various expenditures for the operation of the city government here for fiscal year 2017, t
his city's annual budget amounting to P858 million has been passed by the Sangguniang Panlungsod (SP) in a special session today.
The session was presided by Councilor Jose Netu M. Tamayo who is also the deputy presiding officer.
Approved in a special session attended by all the majority councilors was Ordinance No. 0-591 authored by Councilors Jeslito C. Seen.
Others who gave their nod to the ordinance were Maybelyn Rose dela Cruz-Fernandez, Alvin T. Coquia, Dennis C. Canto, Marvin V. Fabia and Marcelino DS. Fernandez.
Based on the approved ordinance, the P858 million budget as appropriated will cover personal services amounting to P297,556,654.67; maintenance and other operating expenditures amounting to P380,529,657.83; capital outlay for P148,987,687.50; and financial expenses amounting to P30,926,000.
The P858 million appropriation was certified by the Local Finance Committee as reasonable collectible income of the city.
Incorporated as integral part of the 2017 budget were budget documents consisting of expenditures and sources of financing; Annual Investment Program; Personnel schedule by department, office and unit; City Disaster Risk Reduction and Management Plan; Gender and Development Plan; Local Climate Change Action Plan; and Local Development Plan for Children.